How exactly does Jesus Christ take away [erase, eliminate, remove, abolish] the sins of the world?
That was a question I asked a few weeks back. The idea of Jesus' atonement paying the price of sin, or redeeming from the just consequence of sin (i.e., curse; punishment) on conditions of repentance, made sense (to a degree that anyone who hasn't personally experienced an atonement might understand). That expunges the punishment, but how is the sin taken away?
I surmised that if Christ gave laws, knowledge, and wisdom that helped us avoid sin, that might be to take away sin, which rather comes up short, don't you think?
Later in the week during a zoom meeting, one person shared a weekly Presbyterian group confession.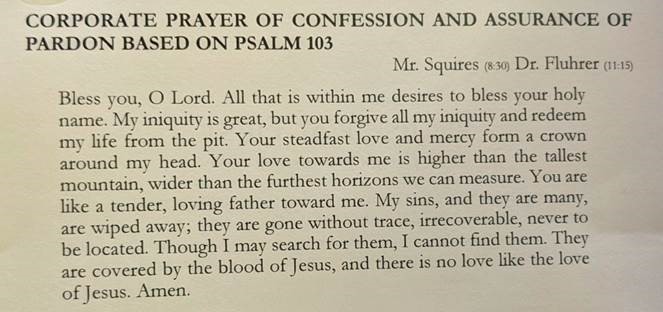 Another person commented that this reminded him of this scripture:
42 Behold, he who has repented of his sins, the same is forgiven, and I, the Lord, remember them no more.

D&C 58:42
Well, that answered it. Forgive & Forget.
Note: neither of these people knew of the question and the search through the scriptures.
Bottom line
Redemption & Forgetting are enabled by the atonement on conditions of Repentance: sins gone. Poof. Simple. Why couldn't I figure that out?
---
Reference Scriptures
References for "taking away sins" and for "forgetting sins" follow if you wish to peruse.
Take Away Sin References
10 ¶ And David's heart smote him after that he had numbered the people. And David said unto the Lord, I have sinned greatly in that I have done: and now, I beseech thee, O Lord, take away the iniquity of thy servant; for I have done very foolishly.

2 Samuel 24:10
6 Then flew one of the seraphims unto me, having a live coal in his hand, which he had taken with the tongs from off the altar:
7 And he laid it upon my mouth, and said, Lo, this hath touched thy lips; and thine iniquity is taken away, and thy sin purged.

Isaiah 6:6–7
9 By this therefore shall the iniquity of Jacob be purged; and this is all the fruit to take away his sin; when he maketh all the stones of the altar as chalkstones that are beaten in sunder, the groves and images shall not stand up.

Isaiah 27:9
5 For behold, and lo, he shall come, as it is written in the book of the prophets, to take away the sins of the world, and to bring salvation unto the heathen nations, to gather together those who are lost, who are of the sheepfold of Israel….

New Testament, Luke 3:5
29 ¶ The next day John seeth Jesus coming unto him, and saith, Behold the Lamb of God, which taketh away the sin of the world.

John 1:29
26 And so all Israel shall be saved: as it is written, There shall come out of Sion the Deliverer, and shall turn away ungodliness from Jacob:
27 For this is my covenant unto them, when I shall take away their sins.

Romans 11:26–27
5 And ye know that he was manifested to take away our sins; and in him is no sin.

1 John 3:5
10 And after he had baptized the Messiah with water, he should behold and bear record that he had baptized the Lamb of God, who should take away the sins of the world.

1 Nephi 10:10
4 Wherefore, I would that ye should remember that I have spoken unto you concerning that prophet which the Lord showed unto me, that should baptize the Lamb of God, which should take away the sins of the world.

2 Nephi 31:4
48 I say unto you, that I know of myself that whatsoever I shall say unto you, concerning that which is to come, is true; and I say unto you, that I know that Jesus Christ shall come, yea, the Son, the Only Begotten of the Father, full of grace, and mercy, and truth. And behold, it is he that cometh to take away the sins of the world, yea, the sins of every man who steadfastly believeth on his name.

Alma 5:48
14 Now I say unto you that ye must repent, and be born again; for the Spirit saith if ye are not born again ye cannot inherit the kingdom of heaven; therefore come and be baptized unto repentance, that ye may be washed from your sins, that ye may have faith on the Lamb of God, who taketh away the sins of the world, who is mighty to save and to cleanse from all unrighteousness.

Alma 7:14
10 And I also thank my God, yea, my great God, that he hath granted unto us that we might repent of these things, and also that he hath forgiven us of those our many sins and murders which we have committed, and taken away the guilt from our hearts, through the merits of his Son.
11 And now behold, my brethren, since it has been all that we could do (as we were the most lost of all mankind) to repent of all our sins and the many murders which we have committed, and to get God to take them away from our hearts, for it was all we could do to repent sufficiently before God that he would take away our stain—
12 Now, my best beloved brethren, since God hath taken away our stains, and our swords have become bright, then let us stain our swords no more with the blood of our brethren.

Alma 24:10–12
15 And now, my son, I would say somewhat unto you concerning the coming of Christ. Behold, I say unto you, that it is he that surely shall come to take away the sins of the world; yea, he cometh to declare glad tidings of salvation unto his people.

Alma 39:15
Forget Sin References
Note both God forgiving, and us forgiving.
12 For I will be merciful to their unrighteousness, and their sins and their iniquities will I remember no more.

Hebrews 8:12
16 This is the covenant that I will make with them after those days, saith the Lord, I will put my laws into their hearts, and in their minds will I write them; 17 And their sins and iniquities will I remember no more.

Hebrews 10:16–17
20 Let him know, that he which converteth the sinner from the error of his way shall save a soul from death, and shall hide a multitude of sins.

James 5:20
6 Remember, O Lord, thy tender mercies and thy lovingkindnesses; for they have been ever of old. 7 Remember not the sins of my youth, nor my transgressions: according to thy mercy remember thou me for thy goodness' sake, O Lord.

Psalms 25:6–7
1 Blessed is he whose transgression is forgiven, whose sin is covered.

Psalms 32:1
1 Have mercy upon me, O God, according to thy lovingkindness: according unto the multitude of thy tender mercies blot out my transgressions. 2 Wash me throughly from mine iniquity, and cleanse me from my sin. 3 For I acknowledge my transgressions: and my sin is ever before me. 4 Against thee, thee only, have I sinned, and done this evil in thy sight: that thou mightest be justified when thou speakest, and be clear when thou judgest. 5 Behold, I was shapen in iniquity; and in sin did my mother conceive me. 6 Behold, thou desirest truth in the inward parts: and in the hidden part thou shalt make me to know wisdom. 7 Purge me with hyssop, and I shall be clean: wash me, and I shall be whiter than snow. 8 Make me to hear joy and gladness; that the bones which thou hast broken may rejoice. 9 Hide thy face from my sins, and blot out all mine iniquities.

Psalms 51:1–9
46 Prepare your souls for that glorious day when justice shall be administered unto the righteous, even the day of judgment, that ye may not shrink with awful fear; that ye may not remember your awful guilt in perfectness, and be constrained to exclaim: Holy, holy are thy judgments, O Lord God Almighty—but I know my guilt; I transgressed thy law, and my transgressions are mine; and the devil hath obtained me, that I am a prey to his awful misery.

2 Nephi 9:46
12 But I was racked with eternal torment, for my soul was harrowed up to the greatest degree and racked with all my sins. 13 Yea, I did remember all my sins and iniquities, for which I was tormented with the pains of hell; yea, I saw that I had rebelled against my God, and that I had not kept his holy commandments.

Alma 36:12–13
18 Now, as my mind caught hold upon this thought, I cried within my heart: O Jesus, thou Son of God, have mercy on me, who am in the gall of bitterness, and am encircled about by the everlasting chains of death. 19 And now, behold, when I thought this, I could remember my pains no more; yea, I was harrowed up by the memory of my sins no more.

Alma 36:18–19
42 Behold, he who has repented of his sins, the same is forgiven, and I, the Lord, remember them no more.

Doctrine and Covenants 58:42