…still very skeptical about signs. Nevertheless, this is getting both increasingly curious, if not whimsical.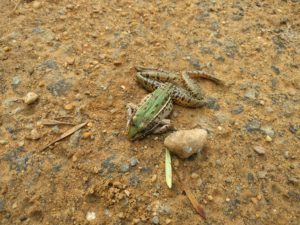 Two days ago, as I neared the aforementioned spot and wondered what might pop up, I was pondering yet again about Genetically Modified Oracles (GMOs :-). Yea, I need to write this up…. For now, just think of it as lots of praying and pondering anew about my inability to get a clear answer to the question, what does Father think of the current crop of prophets?
It was then that I found this guy in nearly the same location as the turtle. I haven't seen any frogs in this area before. Now there was one that was newly dead (with fire ants beginning the process of recycling the carcass).
At very least, it was an odd site. Could there be more significance?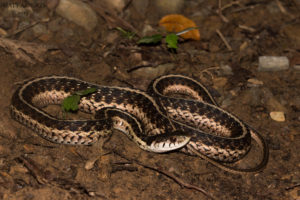 Today, as I came across the very same location — you can imagine the expectation regarding what I might see today — I was pondering the topic of baptism, and wondering if gospel restoration is one of the many types of baptism (rebirth).
I was slightly relieved that I saw nothing there (expecting a skeleton)… until she moved, and moved fast into the underbrush (I couldn't get a picture, but this juvenile garter snake picture is a pretty close replica).
I spent much of the remainder of the walk pondering the symbolism of snakes/serpents, all the while seeing more than the usual number of mockingbirds. The doves where entirely absent.